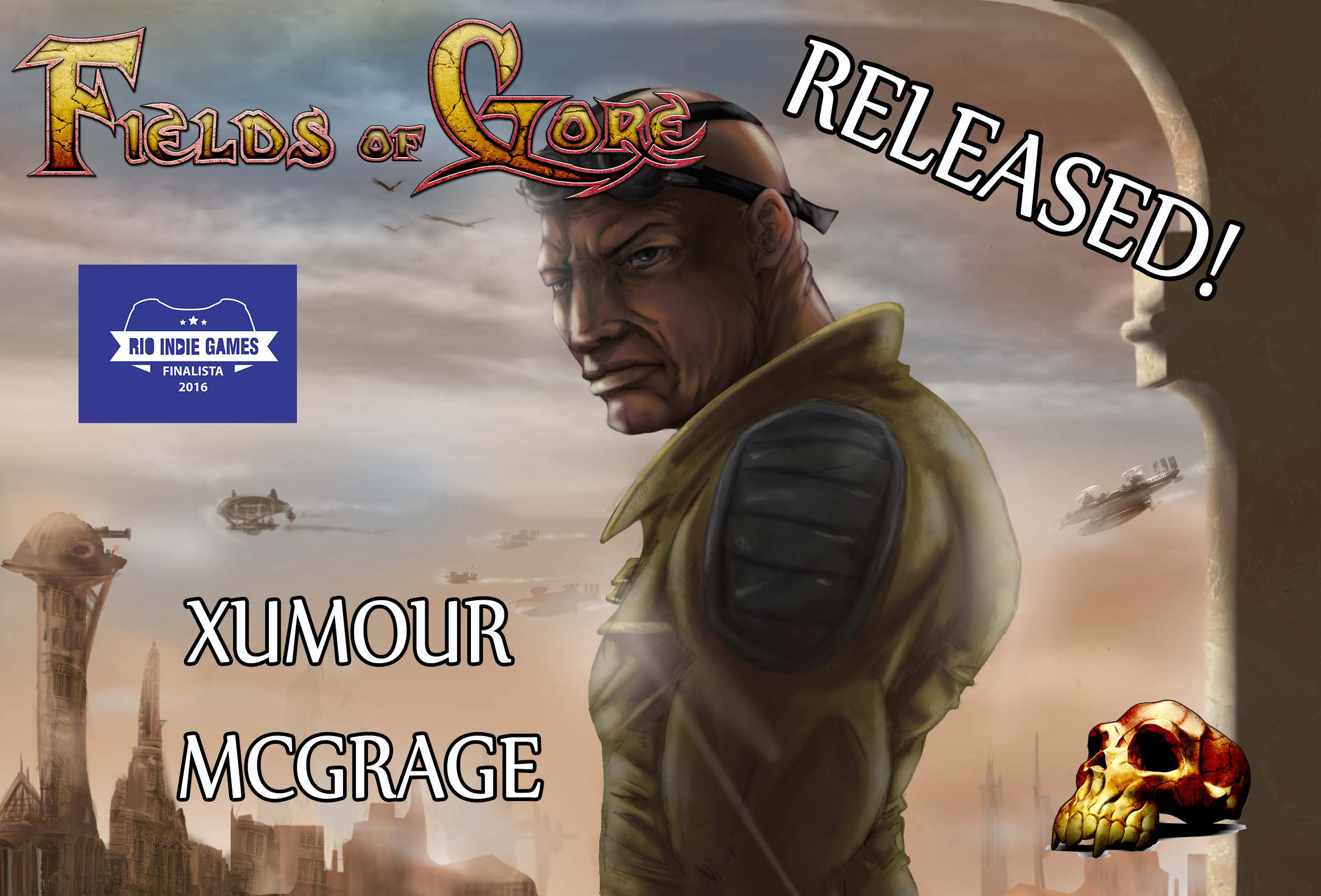 Fields of Gore
A downloadable game for Windows and macOS
Welcome to the Flelds of Gore, an action adventure, with a lot of adrenalin! You are Xumour Mcgrage, a human hero, soldier and adventurer. Your mission is find and destruct wepons of mass destruction made by the orcs.
But, your mission are though and filled with a lot of dangerous! You need to fight against orcs, magical creatures and explore the terrible Orc´s Island!
A game for the truly hero!
A game with a lot of retro feelings and some surprises, like secrete level, easter eggs, etc. Enter in a world of adventure and action!
3 great levels plus secret level, with an atmosphere of old console cartridges!
Use mouse/ Keyboard and gamepad for play
Comands
W,A,S,D - Move the heroe
Mouse left Button - Fire at will
C (Cheat Mode) - Increase Life (only for the chicken players!)
L - Load Game (if you complete the first level, second level and third level)
P - Pause (any key or mouse click to exit)
ESC- Get out of the game (coward!!!!)
Gamepad Controls
Left Analog - Move
Right Shoulder Button - fire
Start - Begin Game
Copyright Anotnio Marcelo aka 0ldm@n - RG Games - 2016 - All Rights reserved.

Update - WIn 32 Version - 07/01/2016

Win 32 Vesion available for download
Version 1.2 - 15/12/2016 - Game pad Support*
- Gamepad Support (supported only in PC)
* Only true XBOX gamepdas not clones!
Version 1.1 Nerfed Ediiton - Nerfed Secret Level 25/11/2016

- By popular demmand, secret level was nerfed! (chicken!)
Version 1.1 - Some Game Improvements Release 20/11/2016

After some public exibhitios, geta a feedback fro players and make some things:
- Improve movement
- Fix some bugs
- Put one easter egg in game!
GAME RELEASED!!! 18/10/2016

Version 1.0 released! Please donwload and support!!!!
LORE MANUAL ARE ON THE WAY ! STAY TUNNED!
Release Candidate 3 - 08/10/2016

- A lot of minor corrections
- save/load improved
- minor bug fixes
- code optimization
Release Candidate 2 - 29/09/2016
- Fixing minor bugs
- Fix dungeon level
- Game Balancing
Release Candidate 1 - 27/09/2016
- Fixing minor bugs
- Minor improvements
- Game Balancing
Beta 1.7 25/09/2016

- Secret level in testing
- some minor bug fixes
- Improving Game Features
- Snake Den fully operational
Beta 1.6 22/09/2016
- Change Hud Font
- Secret level in testing
- some minor bug fixes
- Improving Game Features
- Pause Key
Beta 1.5 19/09/2016
- Bug in orc fortress level fixed
- Secret level in testing
- some minor bug fixes
Beta 1.4 18/09/2016
- More music in bosses
- Fix dungeon level bug
- Fix minor bugs
Beta 1.2 -14/09/2016

- Fix some bugs
- End credits
- Final Message
Beta 1.1 -09/09/16
- Bugs detected and fixed
- Final sequence ok
- Credits ok
| | |
| --- | --- |
| Published | Sep 16, 2016 |
| Status | Released |
| Platforms | Windows, macOS |
| Release date | Sep 17, 2016 |
| Rating | |
| Author | Antonio Marcelo |
| Genre | Adventure |
| Tags | 8-bit, Action-Adventure, atari, Pixel Art, Singleplayer, Steampunk |
| Asset license | Creative Commons Attribution v4.0 International |
| Average session | About an hour |
| Languages | English |
| Inputs | Keyboard, Mouse |
| Links | Twitter, Gameplay |
Download
Click download now to get access to the following files: